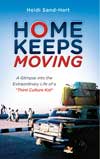 by Sand-Hart, Heidi
ISBN: 9781581581713
Price: 11.99 (160 pages)
Internet Price: 10.19
Books per carton: 9999
Tradepaper 5 x 8
Home Keeps Moving
follows Heidi and her missionary family on their many moves through the eyes of a Third Culture Kid (TCK) and the unique phenomena of having four very different home countries to relate to. It tells the true story of being catapulted from continent to continent constantly: leaving friends and starting all over again, her unquenchable search for a home and sense of belonging in this world, her desire for a life-partner with the odds all but against her due to constantly relocating (even into adulthood). You will laugh and cry along with Heidi as she recounts hilarious and heart-breaking tales from her childhood as West blends with East. That is the true beauty of Heidi's upbringing, it crossed borders and defied logic but she lacked for nothing.
The story unravels the many challenges faced by global citizens and focuses on the strengths that such a varied upbringing has and the pressures that come with it. This book gives you a rare glimpse into the world of a Third Culture Kid and brings insight, validation and clarity to fellow TCKs.

Home Keeps Moving tackles subjects such as: · Confused Loyalties · Swimming in Two cultural oceans, · Home · Grief · Education · Social Pressures · Religion · Expectation · Re-Entry · Delayed Adolescent Rebellion · Relationships
The book will also be available on amazon.co.uk and amazon.com
You can order a signed copy directly through me (at amazon.co.uk) or at: homekeepsmoving@gmail.com (if you have paypal)
AVAILABLE 23rd JULY 2010!!!!